Starboard Pro
$1,550.00
IN STOCK: 
Limited Series 8'7″ X 29.5″ 135L  $1,550
Limited Series 9″ x 30″ -157L  $1,550
PRO
SURF LIKE A PRO
10 x CLIMATE POSITIVEAward-winning shape designed by World SUP Surf champions.
The short compact outline reduces the swing weight, making it easier and faster for you to turn and fit in more critical pockets of the wave without the nose catching.
The thin rails require less effort to turn the board on rail, giving you more control to whip the board around and generate faster speeds to set up for explosive maneuvers. The sharp rail edge at the tails gives you more drive and bite-through turns, making you feel more in control with every maneuver.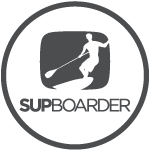 Won Best Performance SUP Surf Shape award 2 years in a row
SUPBoarder Magazine
PERFORMANCE SHAPES FOR SERIOUS RIDERS SEEKING WORLD-CLASS WAVES
DESIGNED BY WORLD CHAMPIONS
Our Pro range has been designed and developed by our World Champion riders Benoit Carpentier and Zane Schweitzer, giving you the best high-performance shape to rip like a pro in the waves.
AWARD WINNING SHAPE
Best Performance SUP Surf Shape – Awarded by SUPBoarder Magazine"This is a board that will suit a more experienced surfer. It may be more technical to use and need certain waves to work best in but in the right conditions this board will give the rider a top level of performance…"
NEW SELF-VENTILATING VALVE
A self-ventilating air valve is available on the board. This valve is self-ventilating so, it should not be touched or removed – otherwise, you are at risk of damaging the valve system.
TIMELESS LOOK, SOLID PERFORMANCE
• Twin T-stringers made from glass fibre are positioned on the deck and bottom of the board close to the rail, providing a massive increase in the overall strength against total breakage in the surf.
• An additional wide layer of 200g glass wraps the rails for higher strength against paddle impact and further reinforces the overall strength against buckling.
• The deck features reinforced biaxial glass and Australian pine, to resist heel dents and impact from the standing area.
• The nose and tail are wrapped in multiple layers of glass fiber for further strength on these impact zones.
NEW HONEYCOMB PAD
The honeycomb pad structure makes this design truly stand out. Not only does it look unique and bene ts from a reduction in weight from a full pad, we believe it offers one of the best grips we have ever used.
The small gaps between the pads give you multiple corners to wedge your feet against, providing the rider additional grip and more control to drive the board harder through turns. The diamond grooving is incredibly secure under foot, combining the corduroy wings allowing the rider to feel when they are close to the tail of the board.
Related products
$1,869.00 – $2,249.00

The Super Frank is the ultimate SUP groveler.  It's meant to be ridden quite a bit shorter than your normal board and still offer plenty stability.  Flat rocker with a very deep single to double concave for high speed and drive in flat and weak surf.  The outline has the wide point a bit forward coming into a performance thumb tail to make the board very responsive and easy to whip around.  The Super Frank comes in two widths for each length so you can choose the width and volume that best suits you.
5 Fin Box Set Up.
Comes with JL 5 fin set. (allows for thruster or quad fin set up)
Thruster set Size – 4.5″
Quad set size- Front 4.5″ Back 4.0″

SIZES

7'6″x29.5″x4″ (100L)
8'x30″x4.2″ (115L)
8'6″x30.5″x4.4″ (130L)
7'6″x31″x4.4″ (115L)
8'x31.5″x4.5″ (127L)
8'6″x32″x4.5″ (141L)

COLORS

BOARD CONSTRUCTION:

JL Classic construction
JL Carbon construction

$

1,869.00

$1,299.00 – $1,999.00

The perfect introductory (beginner) paddle board for first time paddlers who want to paddle fast and stay dry.

A progressive, versatile shape sporting a big bottom concave and boxy rails for unmatched stability, speed and glide potential. The size ranges from length 12'0" to 10'2" accommodates all rider weights and abilities. The bigger sizes offer the most stability from the wider outline, while the shorter narrower boards are suited for lighter riders offering greater tracking and maneuverability. It's one of the best Stand Up Paddle experiences you can have on flat water or with light wind chop.

WIDE TAIL AND NOSE
Provides an entirely smooth and balanced trim for efficient paddling over distance. You can step back for a snap turn or count on the nose area for added stability in chop.

THE BOXY RAILS
Increase the stability of the board and limits water flowing onto the deck, keeping feet and gear dry, essential in cooler climates.

BUNGEE TIE DOWN
On the nose for storing your gear.

(Available only on Tikhine, ASAP and Lite Tech models)

Constructions
CARBON TOP
LIGHTNESS YOU CAN FEEL
The best-lightest value ever
Comes in Wave graphic designed by Sonni Honscheid.
Shoulder carry strap makes it easy and lighter to carry, bungee tie downs nose and tail to transport gear.
Introducing light biaxial carbon on the deck mixed with a protective layer of low weight fiberglass placement resulting in the lightness you can feel.
Australian pine on the standing area for extra impact resistant and rigidity.

STARLITE
WINDSURFABLE – DURABLE
Ultra-durable, scratch and impact resistant woven 200g twill azure rail protection.
The combination of twin T-stringers deck and bottom to protect against total breakage. The T-stringers are positioned close to the rail working like an i-beam to endure heavy drops and strong wipeouts.
Starlite now features a full deck of 0.6mm Australian pine wood which is sandwiched between 2 glass outer skins, increasing the overall total breakage strength and reducing the weight due to lower resin absorption.

STARSHOT TIKHINE
ART YOU CAN RIDE
Comes with 2 x beautiful Tikhine design options, designed by Sonni Honscheid.
Shoulder carry strap makes it easy and lighter to carry, bungee tie downs nose and tail to transport gear.
Australian pine on the standing area for extra impact resistance and rigidity.
Multiple layers of high-grade fiberglass.
Comes with protective rail saver tape to minimizes paddle scratches.

ASAP
AS STRONG AS POSSIBLE
Impact-resistant high-density EVA wrapping the whole rail from nose to tail.
Multiple layers of high-grade fiberglass are wetted out in epoxy resin wrapping the hull.
Australian pine on the standing area for extra impact resistance and rigidity.
Extra rigidity with the introduction of unidirectional stringer bands and solid with added rail and nose reinforcements.

LITE TECH
LIGHT, STRONG, AFFORDABLE
New shoulder carry strap insert. Shoulder carry strap can be bought aftermarket.
Extra rigidity with the introduction of unidirectional stringer bands and solid with added rail / nose reinforcements.
Australian pine on the standing area for extra impact resistance and rigidity in the most critical area.
All inserts have added high-density foam reinforcements.

Model

12'0″ x 34″
GO
12'0″ xx30″
GO
11'2″ x 32″
GO
11'2″ x 28″
GO
10'8″ x 31″
GO
10'2″ x 29″
GO
Length
12'0″ / 365.8 cm
12'0″ / 365.8 cm
11'2″ / 340.4 cm
11'2″ / 340.4 cm
10'8″ / 325.1 cm
10'2″ / 309.9 cm
Width
34″ / 86.4 cm
30″ / 76 cm
32″ / 81.3 cm
28″ / 71.1 cm
31″ / 78.7 cm
29″ / 73.7 cm
Thickness
4.8″ / 12.2 cm
4.6″ / 11.7 cm
4.7″ / 11.9 cm
4.5″ / 11.4 cm
4.5″ / 11.4 cm
4.4″ / 11.1 cm
Tail Width
18.9″ / 48 cm
16.6 / 42.1 cm
20.2″ / 51.3 cm
17.7″ / 44.9 cm
18.0″ / 45.7 cm
17.1″ / 43.4 cm
Volume
256 L
221 L
217 L
190 L
192 L
177 L
Rider Weight
70-130 kg
60-100 kg
60-105 kg
45-95 kg
55-100 kg
50-95 kg
Fin Set Up
Single
WS: Thruster
Single
WS: Thruster
Single
WS: Thruster
Single
Single
WS: Thruster
Single
Fins
Center
8″ / 20.3 cm ASAP: 9″ / 22.9 cm
Center
8″ / 20.3 cm ASAP: 9″ / 22.9 cm
Center
8″ / 20.3 cm ASAP: 9″ / 22.9 cm
Center
8″ / 20.3 cm
Center
Race 23 / ASAP 9″ /22.9 cm
Center
Race 23
Weight
ASAP: 13.8 kg (est)
STARLITEWS: 14.0 kg (est)
ASAPWS: 14.4 kg (est)
ASAP: 13.0 kg (est)
STARLITEWS: 12.1 kg (est)
ASAPWS: 13.1 kg (est)
CARBONTOP: 10.8 kg (est)
STARHOTTIKIHINE: 11.8 kg (est)
ASAP: 13.0 kg (est)
LITE TECH: 12.5 kg (est)
STARLITEWS: 13.0 kg (est)
ASAPWS: 13.0 kg (est)
CARBONTOP: 9.1 kg (est)
STARHOTTIKIHINE: 10.0 kg (est)
CARBONTOP: 9.7 kg (est)
STARHOTTIKIHINE: 10.6 kg (est)
ASAP: 11.3 kg (est)
LITE TECH: 11.3 kg (est)
STARLITEWS: 10.8 kg (est)
CARBONTOP: 8.5 kg (est)
STARHOTTIKIHINE: 9.3 kg (est)

$

1,299.00

4'7″ x 24″ -70L

5'2″ x 27″ -90L

5'7″ x 29″ -110L

6'4 x 31″ -130L

7'1″ x 32″ -150L

TAKE OFF

TO NEW HEIGHTS

10 x CLIMATE POSITIVE

The Take Off is the Foiler's board of choice for anything wing, foil surf, foil downwind and more. This is a true all-round foil board that caters for first-time flyers getting started in foiling all the way through to experienced foilers looking to get high and go fast.This is a completely new concept through and through with an all-new bottom shape, release edges, rocker, volume and outline. You name it, the 2022 Take Off Foil Board has it.

Our super small size range with high volume means riders can ride smaller boards than ever before. This new range allows for riders to go down in size by around one foot in length. Smaller size, easier riding in a higher performance package.

$

1,234.00